As a Louisville SEO company. Our main focus is providing local search engine optimization for small and medium sized business's that are geo specific to the Louisville KY area and Southern Indiana. Our SEO company has invested heavily in properties that help us to rank our Louisville clients sites. Not that we can't or don't do SEO for companies in other parts of the US. We do, but our specialty and main strength is in our ability to rank Louisville KY and Southern Indiana sites high in the search returns. We're all about our clients realizing a profit because they've chosen us as their Louisville SEO company.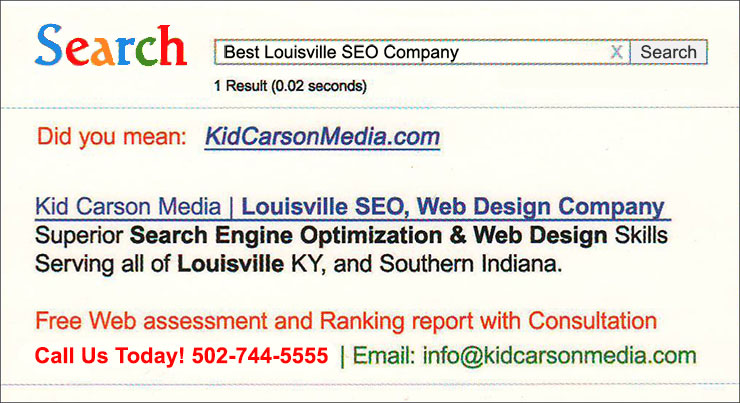 What makes our Louisville SEO Company different?
Due to strict quality guidelines we can only work for a given amount of clients at any one time. Also we do not represent over 2 clients in the same industry unless they're located in non competing areas.
We wish we could do SEO for everybody that requests it. But the truth is we can't take on all companies that consult us for our top rankings service.
Typically our clients are already established in business. They have an advertising budget in place and know they need to be on the first page of Google in one of the top 3 spots. They're hiring us to get them further up in the rankings at a safe but quicker rate.
We don't provide a little SEO or sell SEO packages. For instance, if your business site is ranking at the 50th position and you just want a little SEO done then we will decline to work for you. Why? Because a little SEO will in all likelihood be a total waste of your money. After reviewing a business's website and their competitors sites we know what it will take to rank them on the first page. After all the first page is where the profits are and that's where we put our clients.
Louisville SEO
Our Louisville SEO Company is laser focused on first page rankings for all of our clients. We approach optimizing sites from a local perspective. This calls for visiting the clients physical location if there is one and getting the lay of the land. Louisville is a big city and not all of a business's potential customers may be searching for them with the current keyword modifiers they're current site or strategy is using.
Call us today and we'll see if we can help you out. In the mean time google "louisville Mortgage Lenders" and check the position of http://louisvillemortgagelenders.com. We have them in the 3rd spot for their top key phrase just like they wanted. We can and will do the same for your business.