Publishing our SEO case studies is our way or letting you see what we've done for other clients. After all seeing is believing. But is what you're seeing the truth? Most business owners that are doing online searches for their primary keywords and phrases related to their own business have no idea they're not looking at accurate results.
While viewing our SEO case studies we'll be using the term "Private Browsing" a lot. If a business owner is typing in key phrases to check their business websites ranking without a private browser then they're not seeing true search results. They're seeing the cache being pulled from their own browser. That's a very bad thing. Our suggestion is to follow this link and read up on private browser functions along with why and how it's important for business owners and managers to use one when checking their sites rankings.
So lets get to the SEO Case Studies
We'll Start with J&M Pawn Shop in South Louisville
We met the owner of J&M Pawn Shop while on location doing work for another client. After making friendly conversation we asked them how their internet presence was. They said it was great. That pawn shops really didn't need websites and currently the Real Yellow Pages was handling their online stuff for them. That they had considered a website but concluded it would not be profitable.
Part of what we do is building and leasing sites. So we offered to build one and let them have their logo and phone # on it for one free month. After that month if they wanted to pay to keep it they could. So we did it!
The number 1 key phrase according to googles keyword planner is "LOUISVILLE PAWN SHOPS" check out the screen capture below. This took 90 days start to finish.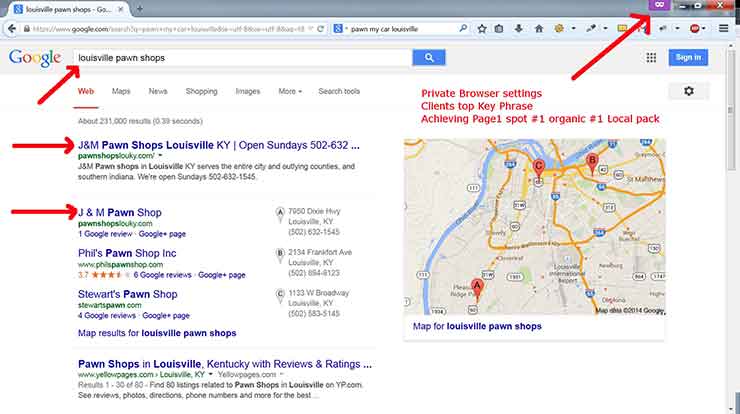 Of course they were excited by all of the new business they were getting and had a request. Could we get people to call them with cars they wanted to pawn? We told them sure we're on it. This is what we delivered. Key Phrase PAWN CARS LOUISVILLE.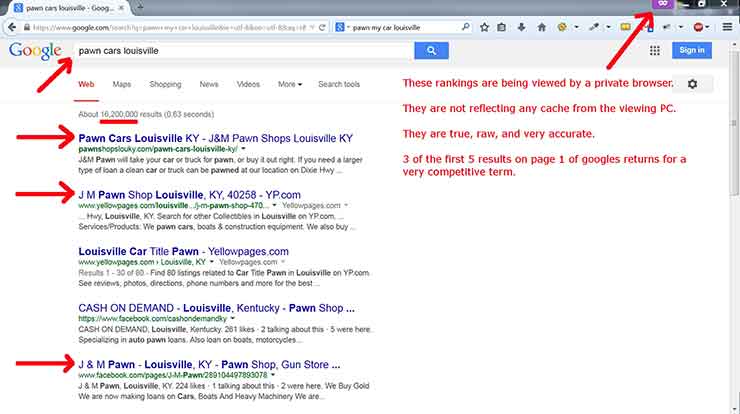 Knowing a good thing when he sees it the owner calls with another request. Gift cards? We're on it. Here's what he has now. For the key phrase "SELL GIFT CARDS LOUISVILLE"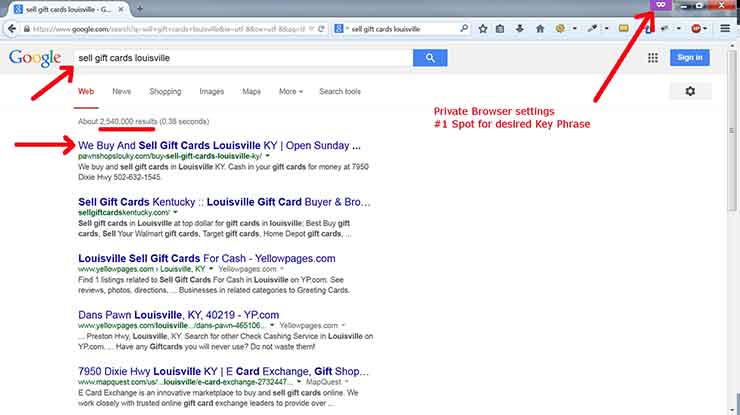 Then he calls again. Can we get multiple positions for guns? Sure! We're on it. Here's what he got. Key words "PAWN GUNS LOUISIVLLE"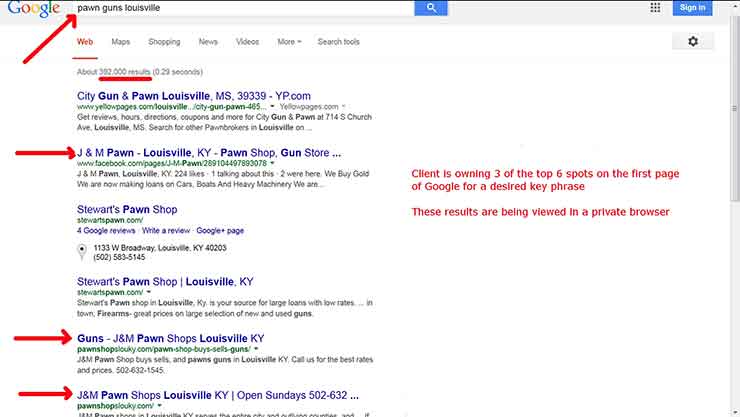 Then again he calls. He wants people to bring him Rolex watches to pawn. We're on it. It took us 7 days to deliver. Key phrase is "PAWN ROLEX LOUISVILLE" within a month he was having people calling with Rolex watches.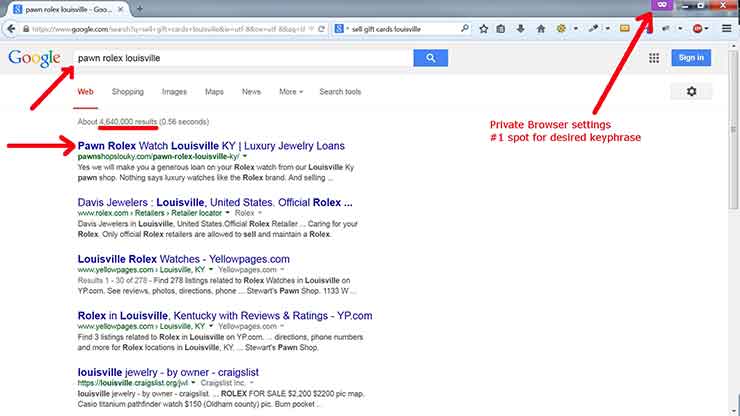 The last time the client called he was opening a new store in Etown KY and would be buying and selling gift cards. Could we do a page for that store and it rank in another city? We were willing to try. This is what he got. Key Phrase "SELL GIFT CARDS ETOWN".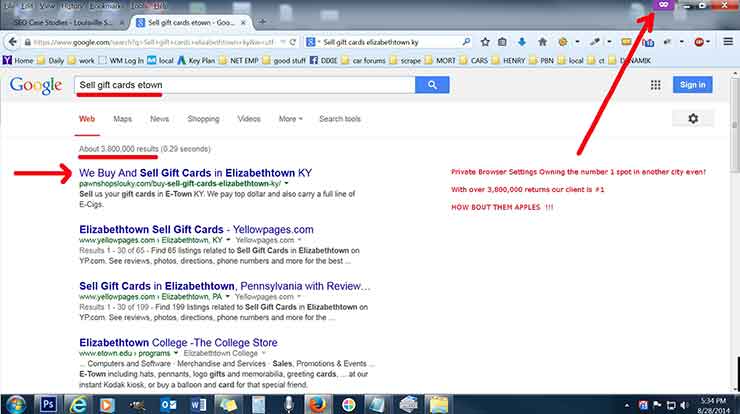 So we've had this client with us going on a year now and everything is great. Word of mouth from them brought us another customer.
---
Let's review Trademark Universal Stone in Louisville KY
The manager at TMU Stone had hired a local company to build their site. They did a great design job and it is a nice looking site. It had been published for over a year and they just weren't getting any calls or business from it. After a review we determined that the highest they were ranking for any of their desired terms was on the 3rd page of Google, the rest of their terms were no where to be found. First and foremost we did a full keyword research project for their industry "Granite Countertops" and "Granite Fabrication" and "Granite Companies" were the top 3 industry phrases, so we went for them locally by including the geo specific modifiers "Louisville KY" and just "Louisville".
The process included rewriting of all of their websites onsite SEO and building out their local ads. In addition we did some article specific blogging about them on industry related sites, and made sure to get some social media going on for them. Take a look at the screen shots below of their new rankings.
Key phrase search is for "Louisville KY Granite Companies"
Key Phrase search is for "Granite Fabrication Louisville"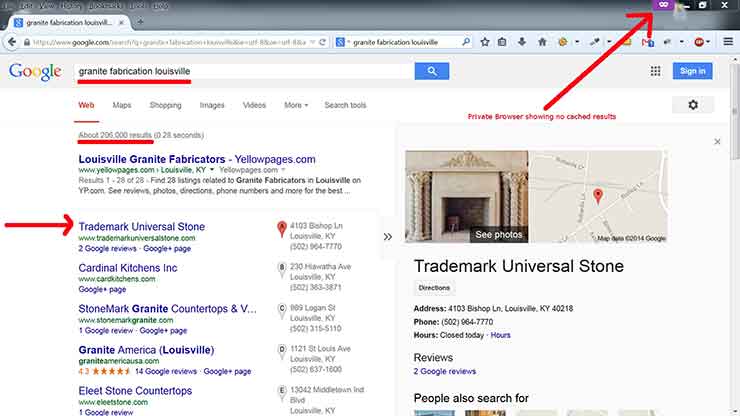 Key phrase for search is "Granite Countertops Louisville"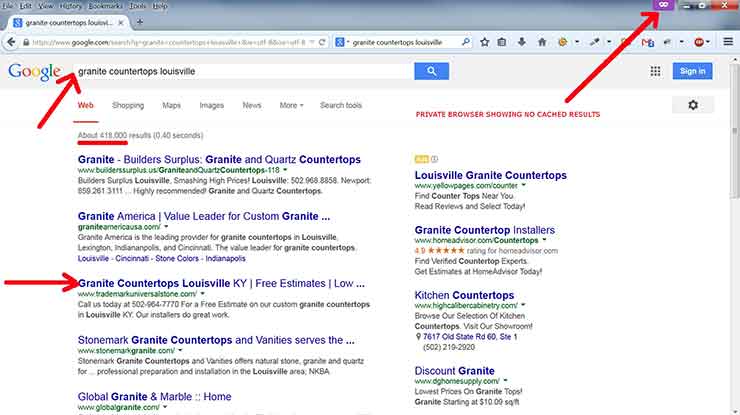 After getting them onto the first page of google for their 3 primary key phrases TMU stone's phone is now ringing.
---
Let's review Precision Painters of Louisville KY
When we first me the owner of this Louisville based Commercial Painter (Precision Painters) he wasn't interested in buying a site from us. He'd previously been burned by a company that had charged him to put him online and they'd never delivered. His skepticism was understandable.
So like we sometimes do, we offered to build a site for lease. We'd build the site and let the customer have it for a month free. If he liked it and found it to be profitable he could keep it and pay us monthly. He's been with us ever since. Check out his screen shots below.
Top key phrase for a commercial painter in Louisville is "Louisville Commercial Painters"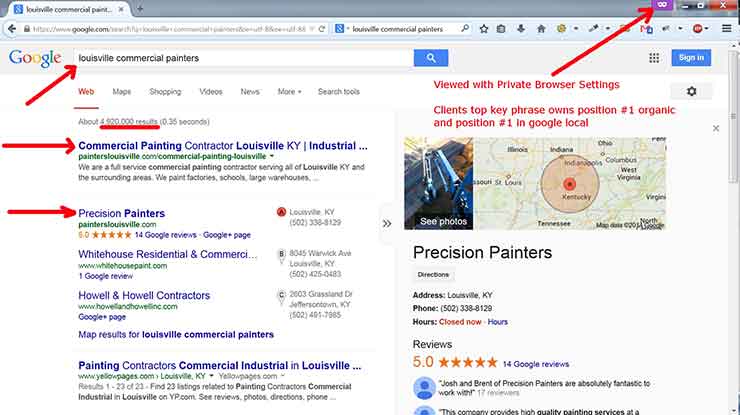 Precision Painters wanted to also rank for "Louisville Apartment Painters"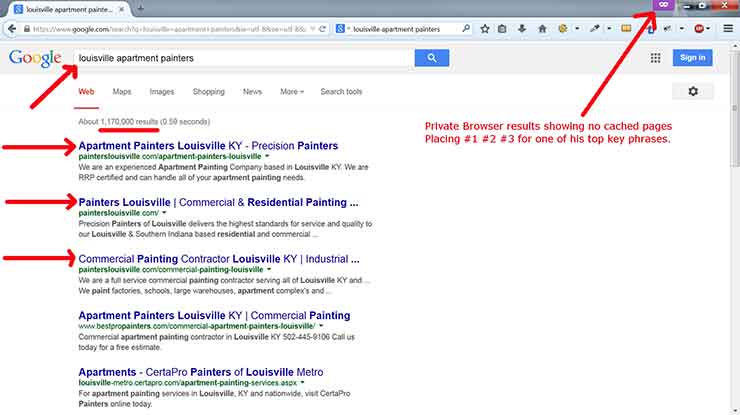 An Added benefit is how well they rank for residential work for "Louisville Painters"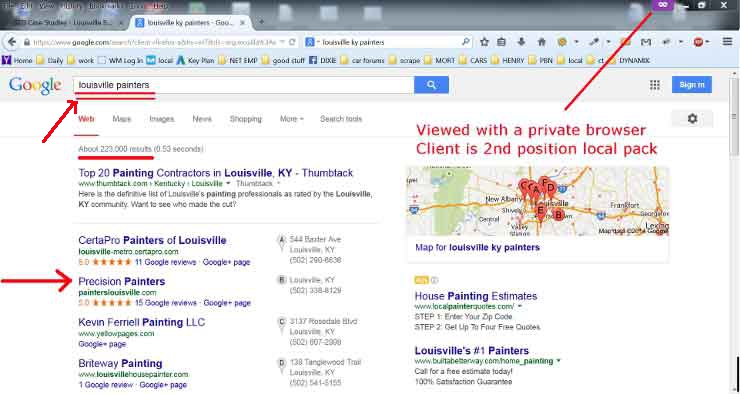 Precsion Painters has been with us a few years now enjoying high rankings and realizing a profit from what they pay us! What could be better?
---
Nashville Fishing Guides a 3 month old site we built
Lets take a look at the Nashville Fishing Guides. This is 3 months after it was freshly built by us. It's already ranking 1st place in the local 7 pack and is in 3rd place organically for their primary key phrase and they're already booking fishing trips from around the nation. As the site progress's and ages it will pick up more top rankings for their other key phrases.
Primary key phrase according to Google keyword planner is "Nashville fishing guides" but it ranks for all kinds of terms and the owner is pleased as punch.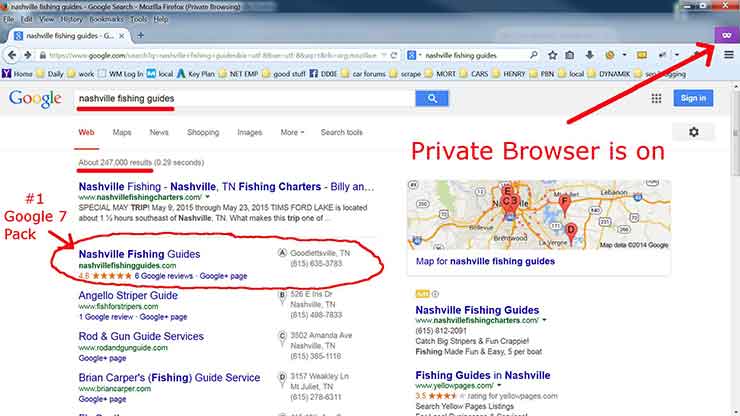 ---
World Pest Control & Sunflower Services has been with us since day one.
They wanted to rank for PEST CONTROL CENTRAL KS as you can see we got it for them. They've held this tightly for going on 3 years now.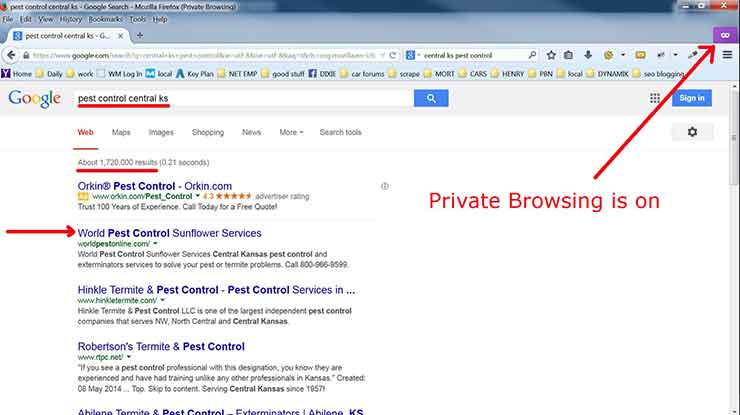 They also wanted to rank for  EXTERMINATORS CENTRAL KS so we got that for them too! They've owned it for 3 years now.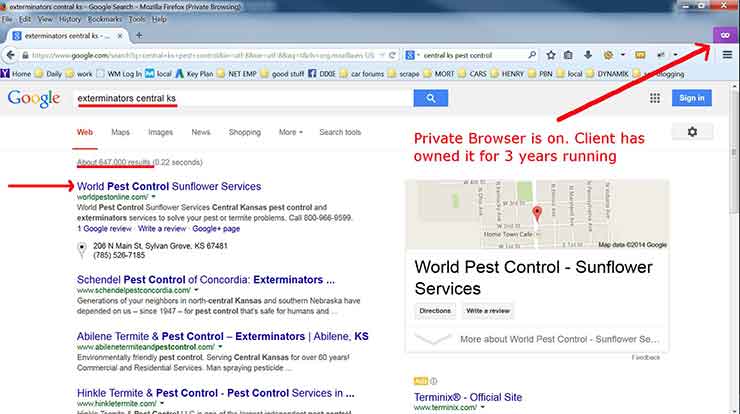 They wanted to know could we rank them for BED BUG TREATMENTS CENTRAL KS so we delivered that too.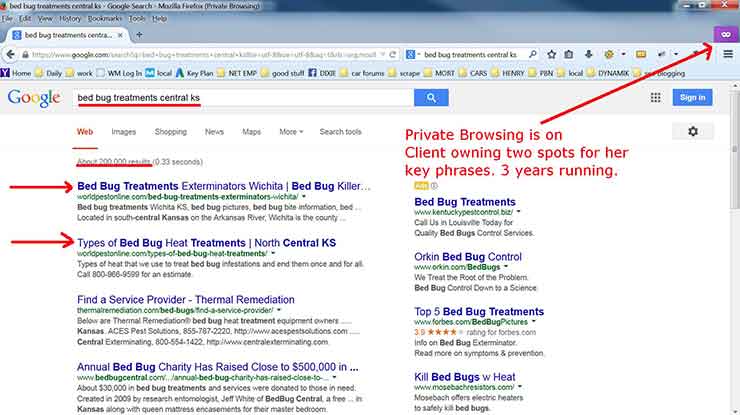 They then wanted to go for TERMITES CENTRAL KS so we hooked them up with that one also.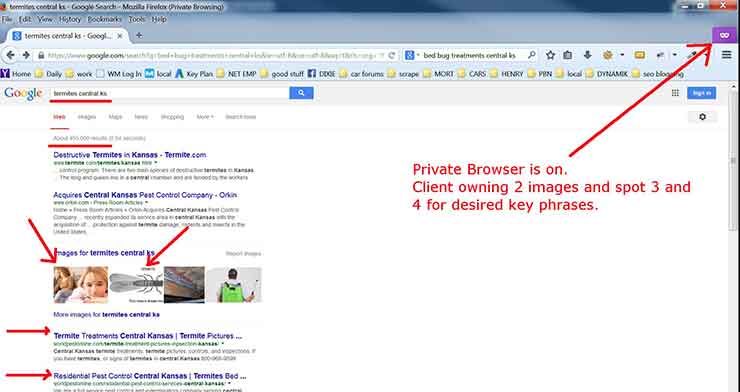 World Pest Control has been a great pleasure to work with. And we will be doing some more work for them very soon.
---
Broker House Lending of Louisville KY is our customer
This is a lease site, and BHL is a fairly new customer. This site is about 6 months old and already doing well for it's 2 main key phrases. Ranking in the finance or mortgage field is especially tough. But we still pulled it off.
The number one key phrase according to Googles Key Word Planner is "LOUISVILLE MORTGAGE LENDERS" so that's what we went for. It seems like no matter how hard we try we can't knock Zillow from the top. But then they're a billion dollar corporation too.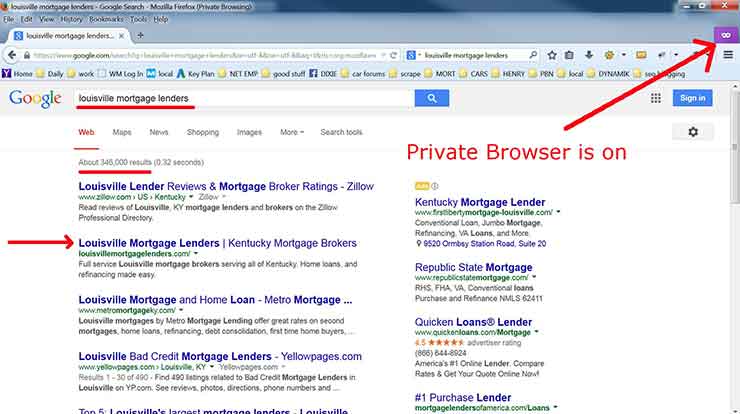 Another heavily trafficked key phrase is "BAD CREDIT HOME LOANS LOUISVILLE KY" so we went for it. It took some doing but we delivered for the client.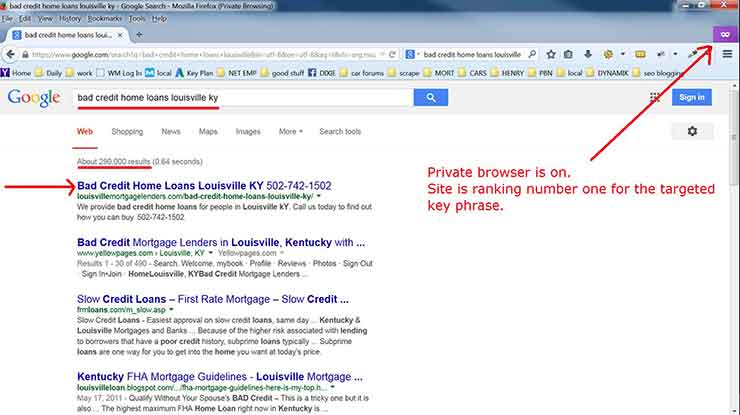 John Moel of Broker House seems to be getting calls and leads from our site. And that's what it's all about!
Louisville SEO
In the future we will add to our case studies page as we do more Louisville SEO projects. We believe that the future of small business success will be determined more and more by their website and how well it's optimized. If you would like for your Louisville KY or Southern Indiana based business to perform well on the WWW call us or fill out our contact form. We'd love to hear from you.