SEO Consulting for Louisville and Southern Indiana area business is a service we offer. Maybe you do your own small business SEO and just need guidance with keyword selection. Perhaps you're site is losing rankings and you just don't know why. Maybe you just need a quick question about a technical matter answered.
Regardless of what it is we are here to help you. Keep in mind that you may be eligible for a Free SEO Report that comes with a free 30 min consultation period after delivery. Also it's just good advice for any business owner that's thinking of buying SEO Consulting to review the Google guidelines on hiring a SEO.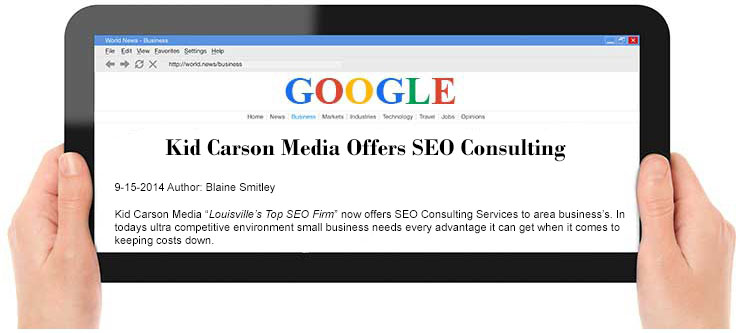 Louisville Area On Site SEO Consulting
For a more complete picture of you're company and what you do we may need to make an on site visit to your location before we can properly advise you. There are times when a business owner or manager will have on site assets that they're not even aware of that could possibly be beneficial to the companies SEO efforts. Also we may need to see first hand what set up that you have in place for managing your day to day efforts. Either way, it's good for us to see your operation first hand when we're doing SEO consulting so that we can understand the nuts and bolts of your business.
Off Site SEO Consulting
We don't need to visit every business that requests SEO Consulting. More often than not, we can take a look at your current internet presence online and be able to accurately advise you on what you need to add to, change, or delete on your site. Business owners are shocked a lot of times when they learn that it's not what they're neglecting to do that's causing them not to rank. It's what they are doing, or a lot of times the services that they've been advised to do by a less reputable SEO agency or consultant that's causing their low rankings.
Louisville SEO
Call us for SEO consulting in Louisville KY and Southern Indiana. We have a track record established with getting our clients increased rankings that raise their exposure and amount of calls, and incoming leads. Over 80% of your new customers could be coming from the internet and an under performing website simply won't get you there. The sooner you call us, the sooner our Louisville SEO Consulting can put you there.