Kid Carson Media designs and builds fully responsive high ranking web sites that are mobile friendly at our Louisville Web Design facility. Our main focus is on building fast, findable, high converting websites that consumers will interact with. If you're website architecture isn't right, doesn't load quick, isn't responsively designed and has poor SEO. Then Google just won't rank it, and why should they? At the end of the day it doesn't matter how well a site looks if a potential customer never sees it.
Visit The Sites in Our Portfolio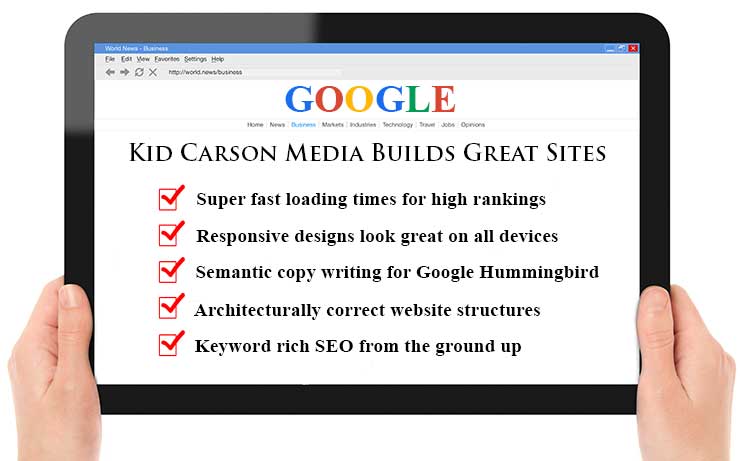 Choosing a Louisville Web Design Company
Today's Internet is a very different place than it was 5 short years ago, and choosing the right Louisville web design company is critical for achieving high rankings on Google, Yahoo, and Bing. It used to be that a decent looking site that utilized the old tactics of keyword rich content could rank a site. Now that Google dominates the search market they've elected themselves "Sheriff of the Internet" and website that don't abide by their web design standards lose rankings and business. Google's reasons for doing this are simple. Properly designed sites take up less resources online. They deliver what a searcher is looking for thereby lowering the necessary amount of searches performed. This in effect lowers the amount of bandwidth needed to make traffic flow on the web.
What are the steps of correct Web Design?
Having a correctly built website is crucial in today's online market. Here are the most important factors that contribute to our clients success when doing our Louisville web design projects.
Keyword Research: This is where it all starts. A Louisville web design strategy that doesn't start with keyword research is destined to be an under performing website through out its life. Knowing what potential clients are searching for is critical. And a business owner may think they know what a potential customer is typing in when searching for products and services related to their business. But our experience is that they don't truly know. Are they making good guesses? Yes maybe they are. But statistical data and market research tells us that they're not. We do extensive market keyword research, and do not take on clients that think it's unnecessary. We will not knowingly assist a client that's determined to build an under performing website for their business. We're in it, to win it. Not lose it.
Website Architecture: Site architecture (structure) is a lot like keyword research in the sense that it should be completely known before web design actually starts. Google likes to see a site designed so that the information it relays to searchers flows in a logical way. We achieve this by siloing information into topical categories so that website visitors can find a sites information in an intuitive manner. This makes a site easy to navigate, and user friendly. Keeping the end user in mind makes Google love a website and they will give it higher rankings in the returns.
Platform Selection: Louisville web design needs to be done on the correct platform using the latest in programming like HTML 5, and responsive design. We use the WordPress platform because it's open source and very flexible. In addition Google loves it and there are a wealth of programmers and builders that use it as their go to platform for modern sites. The Content Managed System is easily edited by business owners and they don't have to pay for expensive programming every time they need a simple change or update to the site. They're able to go in and do it themselves.
Site Speed: Site speed is critical in achieving high rankings on the major search engines and our Louisville web design team focus's on creating sites that load fast just the way Google wants them to. In addition we host on high speed servers. If a client insists on using bargain hosting they may not be a good fit for what we do. After all we're in it to win it.
Semantic Content Writing: Latent semantic indexing (LSI) is a crucial part of modern copy writing regarding our overall modern Louisville web design strategies. It's become a large part of Google's indexing standard and we want to give our clients every edge possible when it comes to high rankings. We incorporate it into our keyword research, site architecture, and on page copy writing. For a great example check out our latest customers site at louisvillemortgagelenders.com or you can visit centriccleaning.com
Why choose us for your Louisville web design company?
By now you've probably realized that we take our clients success very seriously. The WWW gets more competitive every day and having a web design company that's obsessed with your success can be the factor that makes or breaks your advertising budget. We can and will get you a favorable return on your internet budget. After all that's what it's all about.
Call us today or use our contact us form for a free consultation. We'll take a look at what you have and advise you on what you need to do to get where you should be.