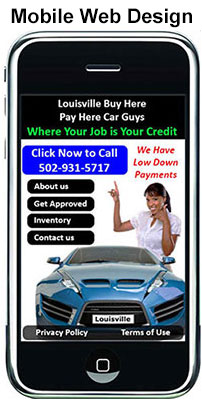 There are situations where having a Louisville KY based site with mobile web design is critical. We have clients that have both a regular site, and an accompanying mobile site so that there marketing needs are met.
When a client needs both we like to use the JumpMobi mobile web design platform for WordPress. It looks great on mobiles and is designed exclusively for them. An added bonus is that it's a well supported platform that we can create great looking sites with lots of functionality built in.
The image displayed here is a JumpMobi mobile web design. We built the site you see displayed along with a stand alone responsive site. In effect this company has 2 mobile sites but prefers that their customers on mobile phones be directed to the JumpMobi site.
The reason is simple really. Over 70% of the visitors to this customers site visit it with a mobile phone. And that's a big percentage.
All of our sites are mobile web design
All of the sites we build for our Louisville customers are "Responsive" in the sense that they can automatically resize themselves for any device viewing them. In 2013 Google announced that due to the amount of mobile queries they were receiving they would prefer for designers to start designing responsive sites to meet this new demand. Naturally we jumped right on board with them.
From looking at the above mobile web design site to the responsive site here at the below right, you can see that there are some differences in the two. And that's why we offer both to our clients. Some business's need a very rich mobile site for their customers. If they're willing to make the investment, we're more than up to the challenge. But at the end of the day, we think the responsive site looks great too.
Louisville Web Design
So there it is. We do complete mobile web design services for all of our clients. You don't have to specify it, because it's not an extra unless you need a stand alone mobile site. For most small business's the responsive site is fine.
Call us for you next web design project in Louisville KY or Southern Indiana. Well build you a site that not only looks good. We'll make sure it's on the first page of Google where your customers are shopping.